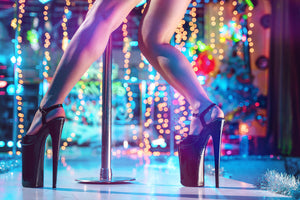 Stripper 101 Bundle
So you want to try the club or get to know the ins and out? Take this 10 private class bundle that begins with a personalized intake on what your goals are and what you would like to achieve. In this course you will learn stage presence which includes pole and floorwork, club etiquette with an intro to **lifestyle management, lap dance, heels, twerk as well as audition prep. This package includes 10 free open pole sessions. 20 hours total in the studio. After completing your 10 private classes, join us in our monthly Sunnys After Dark and showcase your skillset with others. 
Club étiquette is 60 mins coarse (1 of your 10 lessons) where we go over baby stripper tips & hacks as well as do's and dont's with your fellow dancers, managers, bar tenders, bouncers, security and most importantly, your customers.
This Bundles saves you $150 WOW!
**Lifestyle management is not official financial advice. This is solely guidance from shared previous experience.
Package expires after 120 days.